By now, you probably know that The Body of Art is comprised of many talented, diverse artists – our team is a colorful spectrum of body painters, hairstylers, tattooers, lash extenders, costumers, airbrushers, modelers… you name it, we've got it. But did you know that The Body of Art is also a proud colony of nerds?
Yes, you heard me right: we are nerds, and we're not afraid to show it. And we're not just business nerds — we also think that science is supremely cool. What's more, we think that science is supremely important. That's why we were so honored to be asked by the Liberty Science Center to paint the guests of their Freak Show-themed "LSC After Dark" party this month. Every third Thursday, the hands-on museum in Jersey City invites guests after hours for all things science, cocktails, food, music, dancing, and, best of all… laser shows. We can barely contain our excitement at the prospect of a laser show, since lasers are basically beams of glitter shooting through time and space. Did I mention that we're nerds?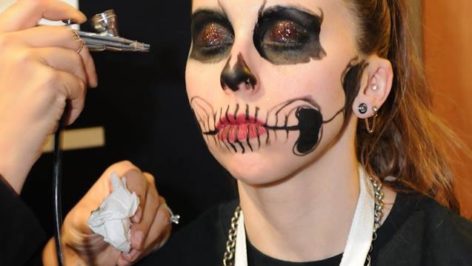 But I digress. In all seriousness, we believe in the power of science, in the undeniable importance of understanding our Earth — our universe — and all its intricacies. Science isn't just facts and figures: it's magic and mysticism. Nature is our greatest teacher, and the most spectacular artist of all. How amazing is it that places like LSC make science attainable to the everyday person, that they feed the community a much-needed dose of cosmic reality?
While we don't normally do makeup on guests at parties, we made an exception for LSC; not only because we agree wholeheartedly with their mission, but because they asked us to resurrect the Rick Genest (AKA "Zombie Boy") skulls that Dani famously painted on Lady Gaga back in 2011 for "Born This Way." While we weren't able to paint a detailed skull on every guest, we were able to create some haunting, dark designs, and thanks to the openness and good spirit of LSC, we left quite a few attendees with some memorable and freaky – albeit, glamorous – faces.
Thank you to LSC for asking us to do something out of the box, in the great name of science. We're more than willing to create something outrageous and evocative, especially if it's for an important cause. Now please excuse us while we go marvel at the miraculous buds of spring, and cherish the Earth we're lucky enough to stand upon.